The Freshest Bay Area Christmas Trees
Christmas Tree Types
Noble Fir - Grand Fir - Fraser Fir - Douglas Fir - Nordman Fir
Noble Fir Christmas Trees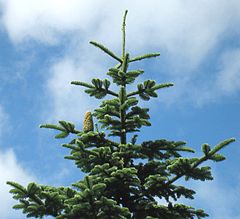 The Noble Fir (Abies procera) Christmas tree is a Northwest US fir tree, native to the Cascade Range and Coastal Ranges along the mountains of northern California, Oregon and Washington. It is a high altitude tree found at 1,000' to 5,000. altitude. These trees are very clean and the extra space between their branches allow for larger ornaments.
Fraser fir Christmas trees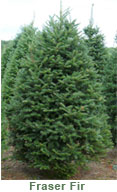 The Fraser fir christmas tree is a great looking and smelling tree! The Fraser is an evergreen coniferous tree growing to 50 feet tall The crown is conical, with straight branches. It's a dense tree, but becomes more open as it ages. The bark is thin and smooth, gray-brown with numerous resin blisters filled with wonderfully smelling scent. I.e. No fake scent needed with these trees. You get the real thing!
Grand Fir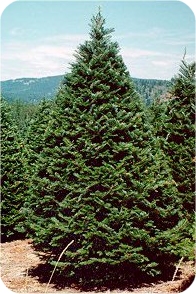 Also found in the NW US, the Grand Fir christmas tree is one of the more common christmas trees. The Northwest native Americans have a history of making uses of grand fir foliage and branches. Kwakwaka'wakw shamans wove its branches into headdresses and costumes and used the branches for scrubbing individuals in purification rites. The Hesquiat tribes used its branches as incense and decorative clothing for wolf dancers.
Douglas Fir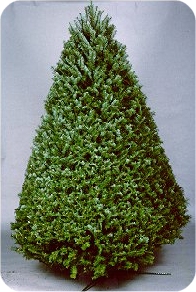 The Douglas Fir Christmas tree is also a popular choice. It's branches are spreading to drooping, the buds sharply pointed and the bark is dark brown. The needles are dark green or blue green, 1 to 1 1/2 inches long, soft to the touch and radiate out in all directions from the branch. They have a sweet fragrance when crushed.