The Freshest Bay Area Christmas Trees
Since 1982 Alpine Christmas Trees has been the Tri-Valleys Premier Christmas Tree Lot. Alpine Christmas Trees is a family owned business started by Robert Nielsen in 1982.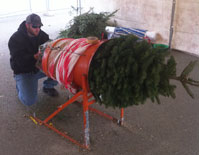 Today the family tradition continues with his son Ryan Nielsen and his wife Keri Nielsen striving to bring the christmas experience to its customers. Alpine Christmas Trees not only provides the freshest and nicest trees in the valley, they provide a fun filled family experience. They also offer garland, wreaths, mistletoe, and more!
Ryan and Keri fly up to Washington in October and hand pick the Christmas trees for their tree lot. The trees are cut no more than 2 days before they get shipped to California. They are loaded on trucks and hauled down to arrive in the bay area 2 days before Thanksgiving.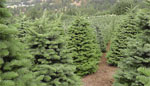 When they arrive at the Dublin Christmas tree lots, the trees are off-loaded and given a fresh cut right away. Then they get drilled in the middle of the trunk so they can stand up in water while they wait to be chosen by a customer. At Alpine Christmas Trees, the customer gets a full view of the trees while they shop. This is to make sure they like each and every angle of the tree before they buy one.
Once a tree is chosen, the team at the tree lot will lift it out of the water, carry it over to the the check out area where it is given one last fresh cut off the trunk before the customer places the tree in the stand at home. This process makes sure the tree stays as healthy and green as possible through the holiday season.
Every customer has the option to "shake" and "net" their Christmas tree.
A "shake" is when you place the trunk on a machine that shakes all the dead needles off the tree so there is less of a mess when they bring it into their home. The "net" (pictured above) makes it easier to tie the Christmas tree down on the customer's car, it also makes the trees easier to carry into their home, and also makes less of a mess while trying to set it up in the perfect corner.
From beginning to end you will have quality service to enhance your
Christmas tree buying experience.